Scarlet Rebels

Wayne Doyle Vocals / guitar
Gary Doyle Drums / vocals
Pricey Bass / vocals
Chris Jones Lead guitar
Josh Townshend Guitar / Piano / vocals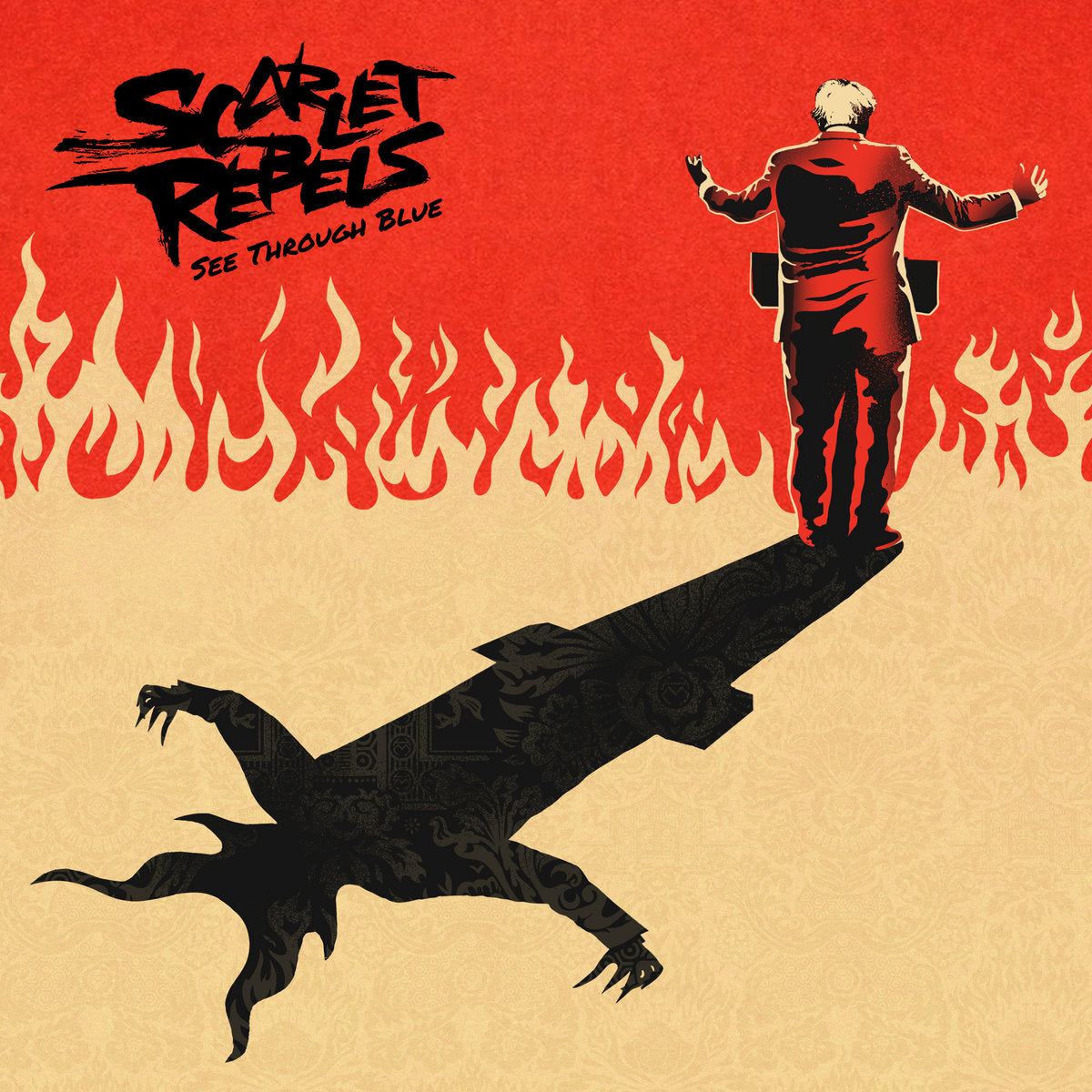 See Through Blue charts at #7
We set ourselves the goal of getting in the top 40...
See Through Blue smashed into the Official UK Album Chart Top 10 at #7
Buy See Through Blue
What we've done
#7 UK Official Album Chart Feb 2022
#2 UK Official Rock Album Chart Feb 2022
#1 Welsh Official Album Chart Feb 2022
#2 UK Official Downloads Album Chart Feb 2022
#3 UK Official Indie Album Chart Feb 2022
#4 UK Official Vinyl Album Chart Feb 2022
#5 UK Official Physical Sales Album Chart Feb 2022
#1 Band Of The Year 2019 – Great Music Stories 2019
#2 Band Of The Year 2020 – Great Music Stories 2020
#2 Live Album Of The Year 2020 – New Wave Of Classic Rock (NWOCR)
#3 Best New Band 2021 – Planet Rock Radio Awards
#1 Single Of The Year – These Days – Great Music Stories 2021
#3 Band Of The Year – Great Music Stories 2021
Scarlet Rebels
Wayne Doyle, frontman with Welsh rockers Scarlet Rebels, was watching TV in the middle of the pandemic when he found his anger rising. Some faceless British politician – he can't remember which one, mainly because they mostly look the same – was shamelessly taking credit for footballer Marcus Rashford's successful campaign to reinstate free school meals for children during those difficult times.
"This guy was basically hijacking something someone else had done," says Wayne, the ire still evident in his voice. "I was watching these politicians coming on the news every day, trotting out absolute bullshit and using the world's downturn to make a profit for themselves. And no one from the other side was calling them out in it. Politics is so corrupt. It needs a kick up the arse."
This state of affairs inspired the title track of the Llanelli five-piece's stellar new album, See Through Blue. Over a steadily intensifying musical backdrop that evokes such musical icons as Bruce Springsteen and latter-day Johnny Cash, Wayne crucifies a ruling elite guilty of "gaslighting a whole goddamn nation to push your contracts through." The striking album cover illustrates the point – created by Carl Cozier of Holy Moly Design, it features Prime Minister Boris Johnson standing at a podium, casting a demonic shadow.
All the rage and fear and uncertainty of recent times has been poured into the album's 11 tracks, resulting in the rarest of rock'n'roll albums: one with a sense of purpose. But where the title song and anthemic first single Storm – which questions whether people are prepared for the aftershocks of both the pandemic and the government's high-level malfeasance – are both fuelled by a righteous sense of injustice, other bolder, emotions also shine through.
"There's a lot of defiance and hope on this album," says Wayne of songs such as euphoric opener I'm Alive and gasoline-fuelled arena-filler-in-waiting Take You Home. "To those who feel alone, raise your hands and we'll take you home," he sings on the latter.
"There's a little bit of a mental health element to it," says Wayne of the song's underlying theme. "If you need help, put your hand up. We wanted to have a really positive message."
Scarlet Rebel's sound is as broad as their ambition. The five-piece – completed by lead guitarist Chris Jones, second guitarist/keyboard player Josh Townshend, bassist Wayne 'Pricey' Esmonde and the frontman's brother, drummer Gary Doyle – fuse the rocket-powered energy of classic hard rock bands such as Guns N' Roses and Aerosmith with the vital modern edge of alt-rock giants like the Foo Fighters on songs such as I Can Sleep Now and Everything Changed. Elsewhere, Scarlet Rebels mine the same seam of timeless, vivid songwriting as Tom Petty and Bruce Springsteen.
"My thing has always been to write songs that go somewhere, that tell a story," he says. "I don't want us to be a band who just write songs for the sake of it."
See Through Blue is Scarlet Rebels' second album, following 2019's acclaimed Show Your Colours, but their roots go further back. Wayne, Gary and Pricey put together the band VOiD in their hometown of Llanelli in the late 00s, releasing three acclaimed albums under that name before deciding it was time to shake things up. Changing their name to Scarlet Rebels, the original trio were soon joined by Chris Jones and Josh Townshend – the latter the nephew of The Who legend Pete Townshend.
"When I met Josh for the first time, he had a signed Les Paul – as in, it had been signed by Les Paul himself, which was amazing," says Wayne. "He was being cagey about it, but I kept pushing him, and eventually he said, 'My uncle got it signed. He's a guy named Pete and he plays in the Who.' I'm, like, 'Your uncle is Pete Townshend!?' But he's so laid back about it, it's not a big deal to him."
The name Scarlet Rebels was inspired by the band's local rugby team, the Llanelli Scarlets. "Growing up where we did, you either play rugby or form a band, and I was never big enough to play rugby," laughs Wayne. "But we wanted to have that link to where we're from. Plus it's a rock'n'roll colour, red."
Like all the great bands, Scarlet Rebels have a deep connection to where they come from. A fiercely working-class town on the South Wales coast, Llanelli's DNA is embedded deep within the band.
"Growing up, you take the place you're from for granted, but all your experiences are shaped by it," he says. "Coming from Llanelli has given us a really strong work ethic. We've been told so many times we need to move to London. I was, like, 'Why? Why do I need to do that?' We've had to scrap every single inch to get where we are, but we've done it on our terms."
That stubbornness has paid off. See Through Blue is released on Earache, the star-making label responsible for the careers of Rival Sons, The Temperance Movement and Blackberry Smoke – company Scarlet Rebels are happy to be in.
"The rock'n'roll scene is so vibrant right now," says Wayne. "People want the big songs and the solos and the singalongs. We want to be part of that, of course, but we're trying to make ourselves different."
With See Through Blue, Scarlet Rebels have delivered on that promise. Few bands marry arena-sized modern anthems with classic songwriting with as much passion and skill as they do. Fewer still are brave and bold enough to tackle real-life political and social problems – especially when they're as potentially divisive as the ones Scarlet Rebels are writing about.
"I don't expect everybody to agree with me, but these are things that have happened, they're facts. If people don't want to listen, that's tough," says Wayne. "But the artists I grew up with talked about real issues, about what was going on, regardless of what people thought of them. We could have made an album full of sex, drugs and rock'n'roll, but we wanted something real."
Real is exactly what See Through Blue is. And with it, Scarlet Rebels have made the rock'n'roll album the world needs right now.